One of my hobbies is taking pictures and trying to capture the beauty all around us. I have always wanted to try to take extremely super-sharp pictures.
My husband and I love to go to Market Days held here in Tallahassee each year. Market Days is an amazing craft market always held the first week in December. Often times unusual Christmas gifts can be found at the Market. While we were meandering from craft booth to the next craft booth, an amazing photography booth caught my eye. The photos were beautifully sharp, close-up photos of birds. Needless to say I really wanted to speak with the photographer at that booth.
Of course, the first question I asked him was, "What kind of camera do you use to get such sharp pictures?" He was happy to share his information and told me he uses a Canon camera and lens. He said he paid over $15,000 for the telephoto lens alone, and the camera itself was a very high end SLR. Of course that kind of equipment was totally out of the question for my hobby photography. But, during the conversation he said Canon was coming out with an amazing camera that would take super-sharp photos, and would be perfect for someone like me. He said if you get that camera, plus one of the L-Series Canon lenses, that would be all I would need for super-sharp photos.
There is a camera superstore which I had heard about in beautiful New York City.
B & H Photography
420 9th Ave. at 34th St.
New York, NY 10001
800.606.6969 / 212.444.6615
B & H Photo staff are extremely good at answering photography questions and giving advice about equipment. I called B & H and spoke with a consultant in the camera department. He verified the information the Market Days photographer had shared with me. According to what the consultant told me, there was a Canon 6D with 24-105mm f/4.0 L-Series lens available, and yes, it got astoundingly sharp photos. The camera and lens were being sold together as a kit, but were also available separately.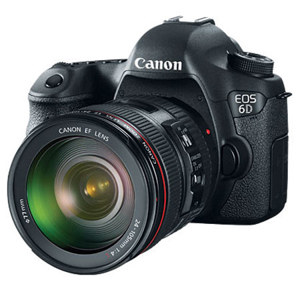 The above photo is from the internet.
The above photo shows the Canon 6D with the L-Series lens. Notice the narrow red ring around the lens; that is the trademark of the Canon L-Series lenses.
Well! To make a long story longer.......the B & H consultant told me they had a "used camera department" and that they did take trade-ins on used camera equipment. He gave me an estimate for my old camera and lens, and told me the instructions for sending the equipment safely to B & H.
Well! With Christmas being right around the corner, Santa got hold of this information and guess what I found under the Christmas tree? It is going to be so much fun getting out and getting some pictures with this camera. Yes, I will share these photos with you and let you know how they turn out.......

I hope you are having a happy day after Christmas wherever you may be.